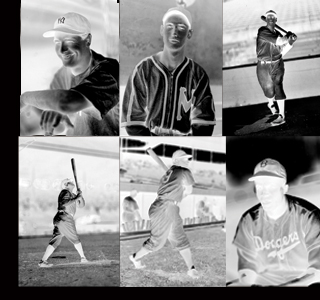 The George Burke/George Brace Original Negatives Collection
The longest-running operation of all the great early photographers, George Burke and George Brace covered baseball in one form or another for the better part of the 20th century—from 1929 to the 1990s. Their tenure had an auspicious beginning, to say the least. In 1929, Cubs manager Joe McCarthy and catcher Gabby Hartnett sought out the ballclub's previous photographer. They could only remember his last name, Burke, so they looked him up in the phone book. A listing leapt out at them: studio photographer George C. Burke, whose office was located near Wrigley Field. Thus began the baseball photography career of George Burke, who had no prior sports experience, and thus ended the career of photographer Francis Burke—the Cubs' time-honored official cameraman and an unwitting victim of mistaken identity.
George Burke hired a young, baseball-knowledgeable assistant named George Brace, and the two soon became a Chicago institution. Ever-present at Wrigley Field and Comiskey Park, Burke and Brace endeavored to amass a complete portfolio of player portraits—a daunting task made possible by the fact that Chicago was the only city with both an American League and a National League franchise from 1929 all the way until Brace's retirement in 1993. Nary a visiting ballplayer refused a quick sitting during Chicago home stands. Some even stopped by Burke and Brace's studio for additional, more formal portraits. The tandem was also well-known for endearingly candid pre-game and off-the-field shots—proof positive that both photographers were always welcomed by their famed subjects, embraced by them as friends at the stadium, at parties, in hotels, and on the street. The Sporting News, Baseball Digest and Who's Who in the Major Leagues were just a few of the publications in which Burke and Brace's work frequently appeared.
In 1948, Burke suffered a heart attack. Brace carried on the business for several years in order to offset his partner's medical expenses. Then, upon Burke's death in 1951, Brace reduced his commitment from a job to an all-encompassing hobby. Though no longer their official photographer, he was still allowed full access by the Cubs and Sox organizations. It was a privilege he would maintain up until his death, a half-century later. With the exception of time spent as a U.S. Army medic in the South Pacific during World War II, Brace attended at least one game of every home series at Wrigley Field and Comiskey Park throughout his entire 65-year career. For many of those years, he worked late shifts or odd jobs that paid his expenses and wouldn't conflict with the game schedule. He always liked to arrive at the ballpark several hours early, when players were just arriving and fans were nowhere to be seen. In 1994, his age finally caught up with him. Worsening eyesight forced his retirement from this long-time labor of love. Brace followed baseball up until the end and also co-authored a book, The Game That Was: The George Brace Photo Collection.
All of the original acetate negatives in this catalog section come directly from the family estate of the George Burke/George Brace Collection. Burke's negatives center on the 1930s-40s, while Brace's zero in on the 1950s. Ruth, Gehrig, Johnson, Foxx, Feller, Dean, DiMaggio, Williams, Wagner, Greenberg, Robinson, Mays, Aaron, Clemente—the biggest marquee names of the day are featured...and so many more. Not only are the images quite visually extraordinary across the board, but many of them are also exceedingly rare or one of a kind—not to mention possibly never before seen, since not all of Burke and Brace's photos would have reached publication. It is important to note as well that historic original negatives of this quality can be both collected on their own worthy merits and utilized to reproduce crystal-clear modern prints.